Rates
2017 Tariff
We do not have any more vacancies for 2017. For waiting lists or last minute vacancies, consult us by phone or email.
2018 Tariff
On weekends we booked for at least two nights.
For holidays, see the Packages page.
We offer a 10% discount for full payment in advance.
Chalet: Daily price per couple:
Chalets 1, 9 or 10: R $ 1,495.00
Chalets 2, 3 or 6: R $ 1,195.00
Chalets 4, 5, 7 or 8: R $ 895,00 *
* In these chalets it is possible to add one (1) or two (2) people, and the value per extra person, over 6 years, is R $ 225.00 per day.
Breakfast (8:30 p.m. to 10:30 p.m.), bed linen and bath linen included in the daily rates. In 2018 the rates will not include dinner, this will continue to be offered every night, but separately from the daily rate. We do not charge a service charge for the daily rate.
The rates start at 2pm (check-in) and are closed at 12pm (check-out time). Our reception is open from 8am to 10pm. For entry or exit outside this period, it is necessary to combine with the reception in advance.
...
Cancellations or transfers:
Because we have few beds and work only with advance reservations we have a different policy for cancellations or transfers, as below.
Up to 30 days prior to arrival date: 5% penalty for cancellations, no charge for transfers.
From 29 to 15 days before the date of entry: 10% penalty for cancellations and 5% charge for transfers.
From 14 to 05 days before the date of entry: 25% penalty for cancellations and 15% for transfers.
Cancellation or transfer requests less than 5 days in advance will not be honored.
Requests will be considered valid only if made by email.
Transfer credits for future hosting are valid for one (1) year. For national holidays we work with different policies for each holiday. Consult by email. Early departures do not generate a chargeback or remove the amount outstanding on the reservation.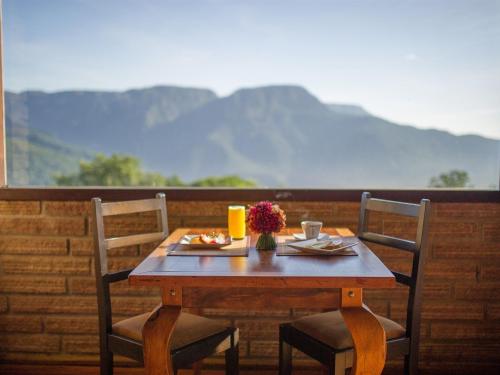 Additional Items
Basket of fruits and homemade chocolates: R $ 95,00
Basket of Swiss fruits and chocolates: R $ 155,00
Sparkling Ice - Chandon Brut or Demi-sec: R $ 125,00
Live music, voice and guitar during dinner (main hall): R $ 250,00
RESERVATIONS AND INFORMATION DIRECTLY WITH THE POUSADA:
48 3532-1590 (Booking Office)
48 98457-6954 (Reception)
RESERVATIONS ALSO WITH SP BOOKING CENTRAL:
SC-048-4052.8970 / RS-051-4063.6280 / PR-041-4063.7840 /
SP-011-4063.4172 / RJ-021-4062.7388 / MG-031-4063.9620.